home, turning, wood, cad, contact, links, blog, disclaimer, about, site_map designed with Serif webplus, © copyright 2005 - 2019






AnimationLab help file. Update Feb 2020 v1.2 (for AnimationLab v6 and previous versions) (Zipped - unzip using MS windows)
This is an updated version of the AnimationLab .chm help file. For AnimationLab v6. And also, almost all of it is applicable to AL v5 with the exception of alteration done since 2017.
AnimationLab chm help file, updated for AL v6
The chm is the same as supplied to SoftDev. And has been updated to include fixes and extra stuff in v6. Plus some errors have been corrected, which I got wrong in the original version.
NOTE, With the chm file. Windows may block the contents. After scannig with Anti-virus, and un-zipping the file, right click the chm file, choose properties, and tick 'unblock', the file should (hopefully) now open without error.
If using AL v6, and the additional help file introduction page does not say 1.2, Then the file should be used to replace the one supplied in AnimationLab v6. Admin privileges may be required.
C:\Program Files\IMSIDesign\AnimationLab v6 64-bit\Help
Or similar if installing 32 bit version of AL
The chm help file can be used as a standalone file.
Any problems. Please send me a PM (personal message) from the TurboCad froum. Although I don't visit the forum much anymore. (I got pissed off with support). The forum will (should) automatically send me an E-mail of the message.
Centre finder
A simple centre finder for use with the wood lathe. I have a larger centre finder, but wanted a smaller one to make it easier on small pieces of wood.
Note. No allowance was made for pencil thickness. Therefore I draw 3 lines and get the centre from them.
Click picture to download TurboCAD 2018 file in Zip format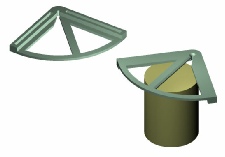 Mini Sanding block
I needed to sand the edges of some 3D printed objects. I needed to try maintain a 90 degree angle. So I 3D printed this little sanding block
It is very simple with the sand paper being held in place by friction rather than screws or clamps. A taper on the mating surfaces, ensures the sandpaper is locked into place
Click image to download TurboCAD 2018 file, (Zip)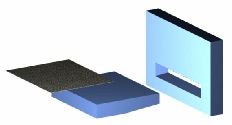 AnimationLab example files.
Example files will be added here, I've just not had time to test them all yet, and then I have to save to TC deluxe.
Epicycliod TC 2018 pro (From custom script page)
Ball and Spinner TC 2018 pro (from the chm Overview page)
AddNode example TC 2018 pro (writing TurboCAD in splines)
Set Variable example TC 2018 pro (Uses Constraints)
Giro example TC files (link to site page, including gif anim)
Prototype RedSDK material doc.
This project was scrapped when the TurbCad community site was abandoned by IMSI back in 2017 (I think). So it is only about 40% complete. I will not get finished.
File will open in browser. Or, right click and 'Save target as'
TurboCad RedSDK Rendering. RedSDK Only.